Other Picture Galleries:
A Better Way Animals
Around the Farm
Best Little Helpers
Around The Farm

Lavender is such a wonderful plant! Not only does it attract beneficial insects, but it wards off many unwanted pests as well like the pesky flea beetle! And of course it has beautiful, wonderfully aromatic flowers and foliage!

Our bubble wrapped greenhouse stays above freezing overnight in the middle of winter with no additional heat sources! The rock wall on the north side captures heat during the day and radiates it back out into the space overnight while the bubble wrap creates a wonderful insulating layer, trapping the warmth!

A few of the gardens here.

This is where all the baking magic happens!! This barn/shop houses our on farm bakery!

The end of this rainbow is right on our gazebo in the center of our gardens! Proof that this IS a magical place! ;)

We have some of the tastiest pears here! Good crispy or soft, they have a subtle spice to them, but still very sweet! Soooo good! This is just one of our 200 fruit tree orchard we are working on. In years to come, as our young trees mature, we will have lots of wonderful, chemical free fruit!

Beautiful roma tomatoes grown here at A Better Way Farm.
Visit our store on the farm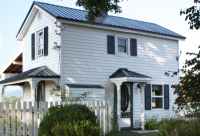 Store Hours:
10am - Sundown
every day

*See Events tab for tour schedule
How to find us

We are conveniently located along Route 340 with easy access to and from I-64 and I-81. We are 1/2 mile North of Eastside Speedway and 2 miles South of Crimora.
We are between Charlottesville, Staunton and Harrisonburg.Click the GET DIRECTIONS link right below the map to get exact directions from your location.

Get Directions
Mailing and Physical Address:
839 East Side Hwy
Waynesboro, VA 22980